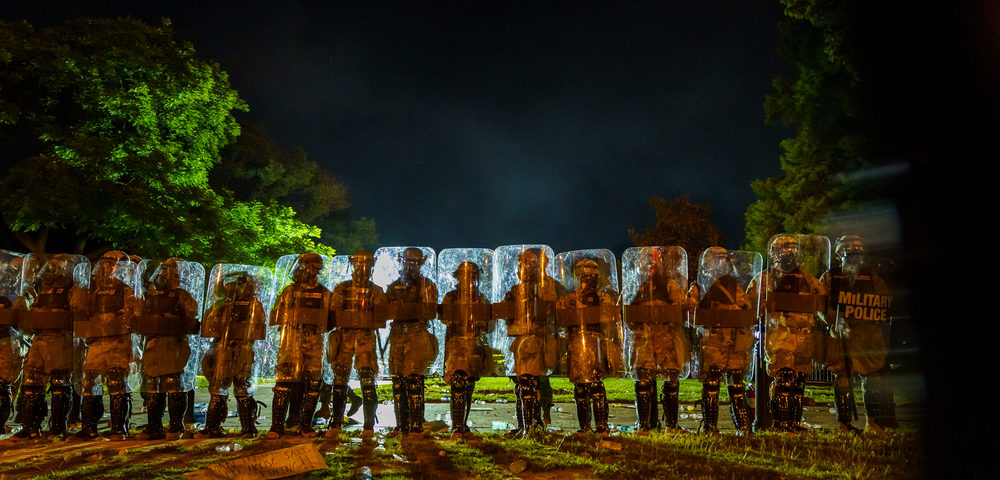 Our Democracy Is Under Attack and Philanthropy Needs to Act Now
September 29, 2020
by Carmen Rojas & Dimple Abichandani
Published in Inside Philanthropy
Two months shy of a presidential election, the media is filled with reports of assaults on our democracy—fear mongering, criminalization of protest, and fresh campaigns to deny voting rights.
We can all agree these are not normal developments, or normal times. Today, we are witnessing a rejection of our democratic rules, the encouragement of state and paramilitary violence, and a willingness to silence actual opposition, including political opponents, protesters and perceived opponents in the media and civil society. Yet, philanthropy is approaching this election season like any other, business largely as usual.
When we connect the dots, we see emerging authoritarianism. Over the last three and a half years, seeds planted by conservatives, the far right and corporate and political elites since the 1960s have sprouted. These seeds were in response to the gains the Civil Rights Movement achieved for communities that have long been excluded from the wealth of our nation and true representation in our democracy.
As leaders of national endowed foundations, we know our sector cannot stand on the sidelines and ignore the evidence in front of us. We implore our colleagues and partners across philanthropy to understand and support countervailing forces to the rise of authoritarianism. This is not a partisan call, because the rise of authoritarianism is not a partisan issue. This is about the future of our nation. We cannot continue to act like this is normal and keep our eyes closed to what is happening in the communities we serve.
Authoritarianism is a real and growing threat, but it is not a given. A strong civil society is the antidote to authoritarianism, and as foundations, our core purpose is to resource and bolster civil society. Between now and the election, consider this a start to your pro-democracy checklist:
Every foundation should plan: Foundations need to plan for a range of unprecedented scenarios. Civil society organizations are planning for a contested election, the possibility of increasing white supremacist violence, criminalization of protest and even a possible military coup. As funders, we must be prepared to resource possibilities we have not seen and to use all of our tools to stand for democracy.

Invest in movement infrastructure and the physical safety of leaders: Funders are not on the front lines, but we support movements that are. The growing threat of authoritarianism is not impacting people equally. Communities of color are most impacted by the militarization of police, the criminalization of protest, and efforts to disenfranchise voters. Funders should invest deeply in movement infrastructure in communities of color, and these investments should be long-term and flexible so organizations have the capacity to respond. We must recognize the risks movement leaders are taking in this increasingly violent moment, and invest in their safety and protection. It has become increasingly normal for visible social justice leaders to receive death threats. Funders should cover the costs of safety when movement leaders have to install cameras outside their homes, take cars instead of the subway, and travel with security.

Speak out when democratic norms are eroded and violated: As a sector, we've largely been silent during a time when public outcry has been a countervailing force. Where was the outcry from philanthropy this summer when peaceful protesters in Washington, D.C., were tear gassed and violently removed so the president could take a photo in front of a church? As the current administration has sought to sow doubt about the election with repeated false claims about potential voter fraud, why haven't we heard more from the many foundations with expertise on voting? Where was the outcry when mailboxes began disappearing across the country, only months before an election when many citizens will vote by mail? We must be clear that these are not normal occurrences in a democracy, and we must be willing to speak out.

Make long-term investments that will strengthen our democracy: Our democracy did not get here overnight, but rather over decades. We need a similar long-term commitment to investment in racial and economic justice that will be the foundation of a functioning democracy.
Scholar Charlene Carruthers notes that "incomplete stories lead to incomplete solutions." As a sector, we are offering incomplete stories and solutions in this moment. We have so much evidence that this is a well-organized project to disenfranchise, silence and hollow out civil society. Just this week, the ACLU of Georgia published a damning report on the concerted effort by Georgia's Secretary of State to purge voter rolls, not only to secure the election in his favor, but to consolidate power.
Philanthropy often places the burden on the least enfranchised and empowered in our democracy to perform miracles in the most broken systems: imploring people to turn out to vote, forcing organizations to spend the vast majority of their resources on supporting people in impossible conditions, and shaming them when a loss occurs. We have atrophied the ability of leaders to understand, challenge and offer new systems that allow for a truly representative economy and democracy by asking them to change community behaviors instead of transforming the systems that have stymied community power. As foundations, we cannot afford these half measures.
We are living in unprecedented times. Philanthropy is often more comfortable with strategic plans and slow-paced responses. This moment calls on us to be clear and courageous. When the book is written about this time, let the story of our sector be that we met this moment with a loud NO to authoritarianism and a generous YES to funding the people power that will save and rebuild our democracy.
Dr. Carmen Rojas is president and CEO of Marguerite Casey Foundation and Dimple Abichandani is executive director of the General Service Foundation.
Link to article in Inside Philanthropy, Our Democracy Is Under Attack and Philanthropy Needs to Act Now