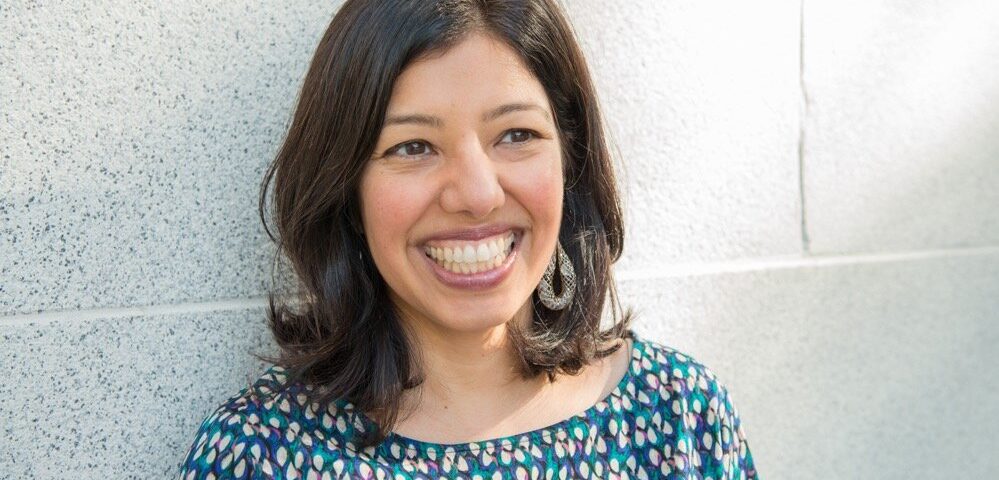 How Dimple Abichandani is Changing the Rules of Philanthropy 
March 17, 2021
By Mandy Van Deven
Published in Inside Philanthropy
As a child, Dimple Abichandani moved with her parents from India to the United States, where she was taught to believe that hard work and sacrifice would lead to limitless possibility. Yet, she soon came to see the falsehoods behind the myth that had inspired her family's journey and the realities of American inequality. This realization ignited her curiosity and a lifelong commitment to contributing to the changes that are needed to create a more just society.
Abichandani's path to philanthropy began with working at the New York Civil Liberties Union during Rudolph Giuliani's mayoral reign, an era that was notorious for unchecked police violence and the criminalization of poverty. In just two years, she got a masterclass in the many roles that are needed—from grassroots organizers to lawyers—and how long it takes to make even incremental change when confronting systemic racism. It is an education she continues to draw on in her role today as the executive director of General Service Foundation.
Abichandani's leadership can be described as quietly fierce. Unlike many foundation leaders, she won't seek the spotlight unless the purpose for doing so is strategic, and while she believes in action, she doesn't act impetuously or get distracted by shiny things. In many ways, Abichandani exemplifies the ideal that came to define her upbringing: do the work, do it humbly and truly, and you can achieve impossible things. I spoke with her about the benefits of not playing by the rules and how to build a culture of trust.
Tell me about the path that led you to philanthropy.
Dimple Abichandani: I became the person I am now in part from my immigrant experience. I grew up knowing the sacrifices my parents had made and listening to them talk at the dinner table about how all things are possible in this country and anyone can make it. But what I saw all around me was that this ideal wasn't actually true. By the time I was in high school, I was politicized and wanted to understand how we could collectively make that ideal true. I started asking questions that animated my life journey.
The last 20 years of my career have been in and out of philanthropy and law, and all I have done has been to figure out how we can take durable leaps toward justice, and in doing so, center those who are most impacted by injustice. I've been at General Service Foundation for five and a half years now, and there are so many things I appreciate about being there. I have the opportunity to use everything I've learned in every other place where I've worked, and I feel like I'm constantly drawing from past experience. I am able to bring my life story, and who I truly am, into this role, and have it be in service to our mission.
As someone who's critical of the ways philanthropy contributes to inequalities, how do you think about the tensions that you hold as a leader in the sector?
Dimple Abichandani: Philanthropy was not a word I ever heard growing up, and it only came into my consciousness when I started working in the nonprofit world and had to fundraise. I was running a peer education program on young people's rights, and through that, I connected up with Third Wave Fund—then Third Wave Foundation—in the late '90s, when it was just getting started. They asked me to join the board when the foundation had been around for about a year.
With only one staff member, the Third Wave board was very active in conceptualizing what the foundation could be. I often think of that experience as setting my DNA in philanthropy because we came together as this multiracial, multi-class group of young women who saw that a new generation of feminist leadership was at the forefront of social movements, and it wasn't getting resources and needed to be invested in. We were like, "These funders don't get us, so let's figure out how to resource it ourselves."
I look back on that now, and there was something really powerful about the fact that we were centering the experience of young activists. We never would have created a bunch of barriers or hurdles, because we were the ones we were designing for. There was a sense of radicalness and experimentation to what we were doing, but there was also a simplicity to our purpose and how we did things. It was a kind of gift that we didn't know the norms of philanthropy. We just knew what we and our communities needed, and so we built for that. Every opportunity I've had in philanthropy, I draw on that mindset of designing for the people we're trying to serve.
Many people in philanthropy work from an assumption that it's their role to enable grantees to scale their work, but that's not always realistic, given a foundation's assets. As a family foundation with a relatively modest endowment, how does your team talk about the value of scale?
Dimple Abichandani: There are times when there's a value in scale, but it's important to consider who should decide when and if the work should scale. Whose vision should that be? This is a perfect example of where we need to follow the field, and let leaders lead.
One of the points of tension in the social justice ecosystem is that it's large funders who have the ability to scale things that often make those calls. That can be incredibly disruptive to a movement ecosystem. Honestly, one of the things I love about working at a medium-sized family foundation is that we're not operating with that level of resources. It allows us to not get confused about what our proper role is. When you do work at that higher level of resources, there's a huge risk of getting very confused about what is your right role.
The other thing I would say is that all things that are scaled start off small. One of the things adrienne maree brown does such a beautiful job of in "Emergent Strategy" is talking about the beauty of things in their proper size. When we're not prioritizing scale, what we can think about is experimentation and innovation. We can think about a more organic process of the field determining what should grow, what should thrive, and what should not. Funders coming in and turbocharging one thing can damage the ecosystem in ways that can take years to course correct.
The things that I would love to see scaled are a series of philanthropic practices that center the field. I feel comfortable talking about scale there, because there are all kinds of good practices and funders who are doing things that really help the field take these leaps forward.
Can you give an example of a philanthropic practice that you'd like to see scaled?
Dimple Abichandani: After the 2016 election, we had just approved a set of grants and were doing award letters. What was top of mind for me was that, as a social justice funder, everything that we support was about to be attacked by the Trump administration. As grassroots leaders, our grantees were going to be on the front lines. I had only been at General Service Foundation for a little bit over a year at that point, and I kept thinking: What are all the things that we can do to stand with our grantees right now?
Our grantmaking practices were fairly typical of traditional philanthropy. They were not extra-burdensome, but they were not streamlined. So I had a stack of award letters to sign, and as I was reading them, I was noticing that the tone of the letter read like a legal contract. It described all the terms and was multiple pages of all the things that the grantees were agreeing to. The letter had all this stringent language about the penalties for not following the reporting requirements, and I was just so struck by how misaligned it felt from what my whole team felt in our hearts at that moment, and the night-and-day difference from our true intention. I literally just took my pen and started cutting all the things that weren't needed. I got the contract down to one page, which included taking away written reports and interim reports and replacing them with one phone call at the end of the grant. That was the beginning of this whole ripple of changes to reimagine the entire process across all aspects of our grantmaking.
How did that impact the foundation?
Dimple Abichandani: The last time that I wrote a grant report was when I worked at UC Berkeley. It took me about 14 hours, so two full days, and I write pretty quickly. By cutting our reporting requirement at the end of a grant, I realized we were giving grantees this gem of time that we had been demanding.
People have asked me: How many months did it take you to move to that process? It took an afternoon of line editing with my pen, which is absolutely within the authority of executive directors to do. For six months before the 2016 election, our board and staff had been clarifying our values and our North Star. Because we had done that work, I could move quickly after the election and make these changes. We were really clear, both the staff and board, that the heart of our work is trusting relationships. We could get the same information about our grantees' work in a 40-minute phone call, and it actually allows us to deepen that relationship.
Implementing this new approach took some culture change within the institution, and we had to make some choices about how we redeployed our time, but it was so aligned with our values and goals of building strong, trust-based relationships with our grantees. On almost every call now, and especially in the beginning, grantees will say, "This is amazing, and I wish you would tell other funders to do the same, because it would dramatically change our lives if this were the norm in philanthropy."
I will also say that this change gave us so much more insight into the work that we're funding. Those written reports we were getting before was both a burdensome process for grantees, but it actually didn't further our work, either. The phone conversations gave us a much richer understanding of what was happening in the field, and it has made us better grantmakers.
You are describing how systemic change is made—you recognized something wasn't right, listened to your intuition, took action, and facilitated a collective coming together that, over time, transformed the foundation. 
Dimple Abichandani: Absolutely. When I look back over what has happened in the last five and a half years at our institution, there has been so much change. But the way it has unfolded has been what you just said, one thing at a time, and always from a place of values alignment. An important thing about that is that change is really hard for people, even when people want to change, agree with the change, and want to be part of it. It's uncomfortable. It's destabilizing. We need to know that when you're taking people through change, you don't always see their best side. People don't always show up as their full, best selves because they're not comfortable. You have to move at a pace that is inclusive, and that allows people, even if they're uncomfortable, to absorb the change and contribute to it.
Changing the contract and reporting requirement was something I did in an afternoon, but with the bigger changes to our grant application and to streamlining the process, every person on my team was part of that. If I had come in and said, "we're changing all of this now," everyone would have shut down and dug in. Those are two natural responses to change. But if you create space in the flow of the work that, when things that aren't values-aligned emerge, we can pause, shift them, and adapt—it's a pace I've found allowed us to keep moving. It creates its own positive momentum and brings people together.
The foundation of all of these changes was the work that our staff and board had done to align on our values and North Star. You have to have that shared articulation of who you want to be as an institution.
I imagine the relationships you're able to have with your grantees is quite different now. What does the relationship look like, and how has it affected the foundation's work?
Dimple Abichandani: We are listening to our grantees, and what we hear shapes and guides our work. In 2017, we revisited our program areas to better align them with our values. This put us on a path of rethinking our program areas. Until that point, we had been an issue-based funder that gave grants in silos. Listening to grantees was the most important part of the process, and what we heard very much influenced where we are today.
We listened to them make a clear and compelling case for how the focus of our grantmaking should be on power building. I remember asking: "When you're describing the work you do to people who are in your family or your community, how do you describe it?" Across all the issues we were funding, our grantees said they describe their work in terms of "power building." That inspired us to make our foundation's grantmaking focus look more like our grantees' work. We changed to fit them, not the other way around.
After the 2016 election, we started hearing from grantees about the emotional toll of their work in this time. We started hearing about their safety concerns. This was well before there was mainstream acknowledgement of the threats and targeting of activists that is now a feature of this time we've been in. Because we were close in, and because our grantees trusted us, we heard about those things. In response to hearing about these concerns about sustainability and well-being, we created a priority around healing justice and started inviting our grantees to apply for dedicated resources, in addition to their core grant, that were about supporting the sustainability, wellness and healing of their teams.
The idea of "more is better" shows up a lot in philanthropy, but as you shared when talking about scale, more is not always better, and can actually cause harm. What are moments when more really is better? 
Dimple Abichandani: One of the things we need to do a better job of in philanthropy is understanding that all moments are not the same. We have a strange relationship to time, and it's a very financial relationship. We operate in these grant cycles that are dictated by our budgets. So we give out money in these one- or two-year cycles, and then we think that each year is interchangeable, that next year is going to be like this year. In reality, as anyone who works on social change will tell you, there are times where factors line up so that movements can take big leaps forward. There are other times when, if movements don't defend their gains, we will take huge steps backward.
One of the things that really undercuts our effectiveness in philanthropy is that we don't make our spending decisions based on that understanding. We don't look at a particular period of time and analyze what is possible during that time, or really listen to our grantees about what's going to be needed, and then make the decision. When we come up with our spending policy, that process is about determining the amount of the pie: Here's how much money we're going to spend in total. Then, when we do budgeting, it's about deciding how to slice up that pie. What we end up doing is having the strategic conversations when we do budgeting, but not when we're making our spending decisions. This contributes to what our grantees experience as a fickleness, and funders not staying the course. We have to drop those bad habits.
What has dropping this bad habit looked like at General Service Foundation?
Dimple Abichandani: Many foundations use a traditional spending policy that is essentially a mathematical equation. It doesn't take into account critical, non-monetary factors that impact our ability to meet our mission. In 2017, we imagined what a spending policy would look like that had these non-monetary inputs. This allowed us to engage in a series of strategic conversations about what's happening right now, what's possible right now, and what's the impact for our mission. Then, based on that, we made a decision about the right amount of spending.
We tried it out for the foundation in 2017, and our board loved it. It invited them into a deeper type of governance than what had been possible under a traditional spending policy. Then, the multiple, intersecting crises in 2020 inspired many other foundations to look at their spending policies and processes. We were invited to share our process with a lot of our peers, who wanted a more substantive, mission-appropriate way to make this important decision.
A lot of what we've been talking about is how to enact our values in the ways we do our work, which can be challenging in a sector that is critiqued for lack of systemic forms of accountability. What practices do you use to stay true to the foundation's values?
Dimple Abichandani: The answer to that is, you build a values-oriented culture. We know that what binds us is not our jobs; it's a shared understanding of the world we are trying to build. There are some specific things we do. At the beginning of every board meeting, we read two things: our values and our founding letter by Clifton Musser, which is full of gems of wisdom, and the seeds of General Service Foundation's culture are in that letter. It's a trust-based letter. Then we reflect, having read those things, on what's top of mind in that moment.
Clifton Musser wrote that letter in 1946, and what's interesting is that there have been so many moments where I felt like it could have been written today. He starts off by talking about being torn between a wish that the foundation will do something meaningful and good for the world and the fear that the chaos of the world will envelop all efforts to do so. The letter urges us to be humble and says, "I trust that you'll make good decisions." His trust in the future boards of the foundation, it translates into the board's trust in me, my trust in my team, and the trust that we pass on to our grantees. That's how culture works.
As we ground in our values, we are clear-eyed about the challenges that are before us. And we're also clear-eyed about the fact that, every one of us, whatever position we're in, has opportunities to keep centering relationships, to keep shifting power dynamics, and to keep building a better world. We are walking side-by-side with our grantees and our colleagues in the sector. We keep moving forward together, one step at a time, and we know that the destination we're moving toward is justice.
Mandy Van Deven is a philanthropy consultant with 20 years of experience in strategy and planning, grantmaking, organizational development, capacity building and strategic communications in the philanthropic, nonprofit and journalism sectors—with an emphasis on gender, racial and economic justice and fortifying the infrastructure for narrative power.
Link to article on Inside Philanthropy:
https://www.insidephilanthropy.com/home/2021/3/17/how-dimple-abichandani-is-changing-the-rules-of-philanthropy