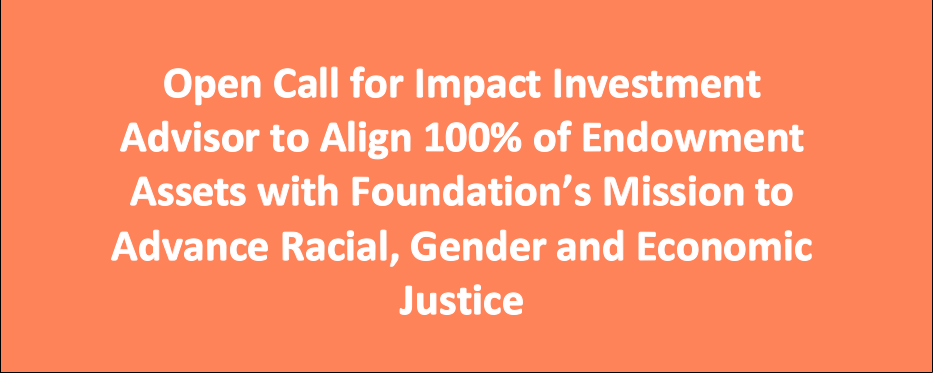 General Service Foundation
Open Call for Letters of Interest to Advisor Community for Partners
General Service Foundation Issues Open Call for Impact Investment Advisor to Align 100% of Endowment Assets with Foundation's Mission to Advance Racial, Gender and Economic Justice
Berkeley, CA — August 2, 2021 —
The General Service Foundation (GSF) seeks a new investment advisor to manage its endowment and align its investments with its mission to advance racial, gender and economic justice. GSF is conducting an open call process to identify an advisor that will help GSF more deeply align its investments with its values and mission.
"This past year has only reinforced the urgency of progress on racial, gender and economic justice, and we are looking for a path-breaking partner who will guide us in investing all of our assets towards impact on these imperatives." said Dimple Abichandani, GSF Executive Director.
GSF began impact investing 13 years ago by dedicating 10% of its endowment to impact investments. Today, 32% of GSF's endowment is in impact investments. GSF's Board has resolved to move 100% of its assets into investments that align with GSF's mission and seeks an advisor who can partner with the Foundation to fully integrate its investments with its mission to support communities organizing toward racial, gender and economic justice.
Godeke Consulting, an impact investing strategy and advisor search firm, will manage the search on behalf of GSF. The investment advisor search will include two phases: an Open Call for Letters of Interest (LOI) that launches on August 2, 2021 and closes on September 8, 2021 followed by a Request for Proposal (RFP) which will be by invitation. We encourage advisors from a broad range of firms to respond to this Open Call. All responses should be submitted via the following link: Survey Monkey. A PDF version is available here.
For any questions about participating in this Open Call, please contact steve@godekeconsulting.com.
Please direct all media inquiries to elaine@generalservice.org.