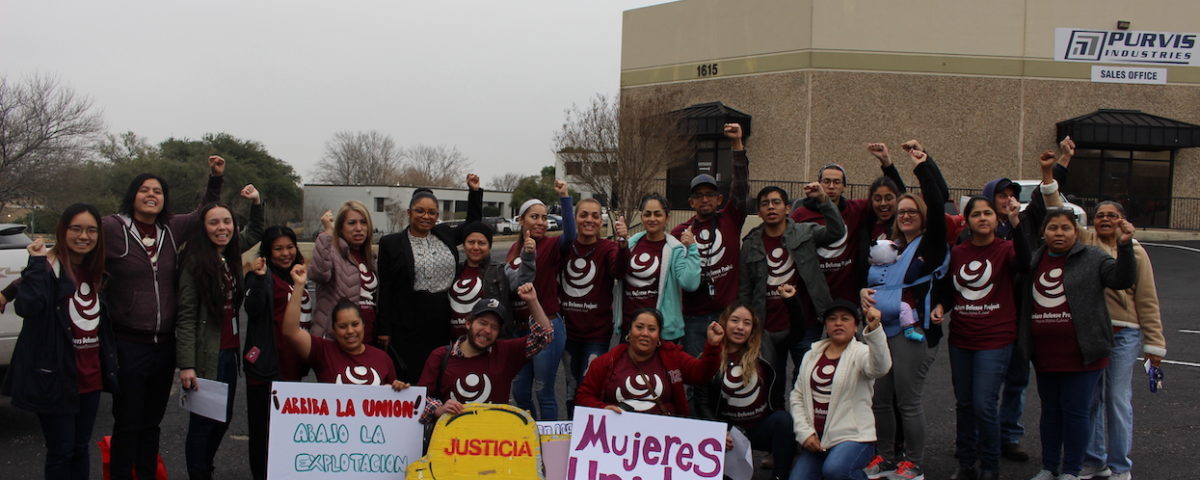 This Small Family Foundation Had the Labor Movement's Back Before It Was Cool
January 13, 2023
By Dawn Wolfe
Published in Inside Philanthropy
Back in 2017, the Stanford Social Innovation Review challenged foundations that focus on economic inequality to throw significantly more support to the emerging "alt-labor" nonprofits that work alongside and outside of traditional labor unions to support the rights of workers. As SSIR reported at the time, foundations created by wealthy individuals have traditionally looked askance at organizations that might upset the balance of power between employers and labor.
But in the past year or so, the times seem to be changing. As my colleagues Philip Rojc and Martha Ramirez have both reported, at least some big players within the larger philanthrosphere are waking up to the fact that if they want to combat economic inequality, supporting movements that seek to increase wages and improve working conditions is a foundational place to start.
While this way of thinking is relatively novel for the sector at large, one small California family foundation has been funding labor rights work since 1995. More recently, General Service Foundation has also taken its commitment to "accomplish the most good" a step further through a new endowment investment strategy designed in part to ensure the funder's money is invested in companies with fair labor and compensation practices that "value the humanity of their workers," according to Interim Executive Director Desiree Flores.
Ahead of the curve
At first, it's not clear why this family foundation, launched in 1946 by a wealthy, white Iowa couple who made their fortune primarily in the lumber industry, would be ahead of the philanthropic pack when it comes to supporting labor rights. According to Flores, though, GSF's support for workers was a natural outcome of the way the funder has always operated.
"What I always say is that there is a very unique, authentic belief that those who experience a problem know best how to solve it," Flores told me. Seeing as GSF is a small family foundation, she said, its funding priorities often evolved organically along with the interests of individual board members. That is certainly the case when it comes to labor rights.
Mary Estrin, a GSF family member and longtime program officer who passed away in 2020, spearheaded the foundation's labor funding in the mid-1990s. It began with a $25,000 check in 1995 to Human Rights Watch to support a labor accountability program in Mexico, with subsequent grants to boost labor-related efforts in countries including Mexico, Guatemala and El Salvador. The foundation first started supporting labor efforts on the U.S. side of the border in 1999. Then, when former GSF Executive Director Dimple Abichandani took the helm in 2015, GSF began focusing all of its grantmaking, including its labor support, within the United States. Abichandani left the foundation in September 2022.
"GSF has funded groups like Jobs with Justice or National Domestic Workers Alliance for years, and groups that, when we first started funding them, were teeny-tiny, and now, they're getting MacKenzie Scott money, which is really cool," Flores said.
The foundation's giving also became more expansive and expressly intersectional under Abichandani's leadership, Flores said, with grants to organizations like the Los Angeles Black Workers Center, Jobs with Justice and the National Day Laborer Organizing Network.
At the same time, Flores said, intersectionality has been a facet of GSF's funding since at least the 1990s, when the funder supported Black Women's Health Imperative, "an early trailblazer in the concept of reproductive justice" that coupled reproductive rights with issues like racial and environmental justice. Flores called GSF's early intersectional focus the result of a "very simple instinct" on the part of the board, stemming from their drive to do the most possible good with the responsibility, power and privilege they've been given.
Investing to do the most good
In 2021, GSF's board decided to take its commitment to do the most possible good a step further, committing to invest 100% of the foundation's endowment in alignment with its mission. The following year, GSF issued a report called "No Small Change: Using our Assets to Drive Racial, Gender, and Economic Justice," which, among other issues, touches on what the board learned in its search for an investment advisor to help drive the new strategy.
The decision to change GSF's investment strategy wasn't a heavy lift in terms of the board's values, Flores said, but changing years' worth of financial practices has still involved discomfort and extra work. The new practice also involves different conversations, Flores said, citing a recent board meeting where discussion revolved not just around return on the funder's investments, but also in the realm of investments: "If we can do something in addition to and to complement direct grants, then let's talk about it, and let's figure out how to do that."
During our conversation, Flores had advice for other funders seeking to address inequality. "I can say definitively that one of, if not the biggest, advantage or asset you can have as a social justice funder would be an intersectional power-building frame," she said. She emphasized that GSF's Building Voice and Power grantmaking framework is not just a name, but "a real process Dimple [Abichandani] and the board went through to really just figure out, how do we do what we've always done, but sharper and with more impact?"
Adopting that process, Flores said, has allowed GSF to "create this dream scenario where, when I think about [an organization like] Jobs With Justice, I'm not just thinking about the labor or economic part of their work. They're just as much about civic participation, they're just as much about building power, as a reproductive rights group is."
"My two cents is that there's going to be this fear that [funders] can't quantify impact" with such an approach, "and I get that, but I will say that as someone who has been leading grantmaking in this frame, the advantage is that you are just able to support work that you know is making an impact. I don't have to track it back to 20 different indicators." This fully intersectional approach, Flores said, is not only "liberating for groups on the ground, but it's been incredibly liberating for me to do," and allows her to do much better work as a grantmaker.
"It is the best part of my job, and what I wish every foundation would be able to do."
Link to article on Inside Philanthropy:
https://www.insidephilanthropy.com/home/2023/1/13/this-small-family-foundation-had-the-labor-movements-back-before-it-was-cool